COVID-19 Vaccination Programme
COVID-19 Vaccination
Some groups of GP practices in Bedfordshire, Luton and Milton Keynes have started to deliver the Covid-19 vaccine to patients and as more vaccine becomes available, more GP practices will be able to offer the vaccination. To help us to help you, please do not contact the practice to book for a Covid-19 vaccination, because as soon as we have our clinics confirmed we will contact patients in priority order.
This does not impact on the delivery of the annual flu vaccination programme and you should attend when invited for your flu vaccine.
Who will be vaccinated first?
Those aged 80 or over will be vaccinated first
The first batch of COVID-19 Vaccination is being delivered very soon, and will initially be given to those patients who are aged 80 and older.
The government have stipulated that the vaccine will be given on a priority basis after a risk assessment. It has been published that Health care workers and the over 80's will be the first to be vaccinated.
At this time, the practice giving the vaccination for Watling Vale Medical Centre's patients will be Whitehouse Health Centre Milton Keynes (Please wait to be contacted).
If you do not fall into this age category, please do not contact the surgery at this time. The practice will contact you when the next age groups can be vaccinated, via text message, letter, and direct contact or via the Surgery Website.
Why you have to wait for your COVID-19 vaccine
https://www.gov.uk/government/publications/covid-19-vaccination-why-you-are-being-asked-to-wait/why-you-have-to-wait-for-your-covid-19-vaccine?priority-taxon=774cee22-d896-44c1-a611-e3109cce8eae
Please be confident that as soon as we can invite you to a clinic we will do, However, please keep in mind that this could take weeks or evens months before we can invite the younger, generally healthy patients.
Many of the vaccines will be delivered at one of two large centres in MK. However, more news about dates and locations will follow in due course.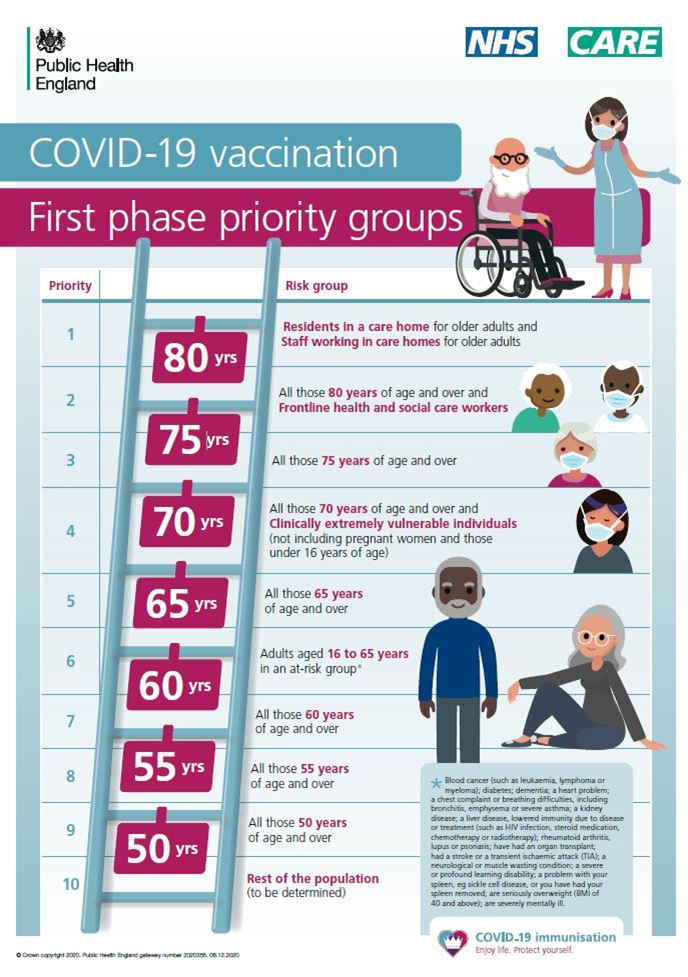 Whitehouse Health Centre
At the present time, COVID 19 vaccines can only be delivered to designated GP practices with suitable facilities. The practice for Watling Vale Medical Centres patients is Whitehouse Health Centre, Dorset Way, Whitehouse, Milton Keynes, MK8 1EQ (Please do not contact Whitehouse Health Centre, wait to be contacted by Watling Vale Medical Centre).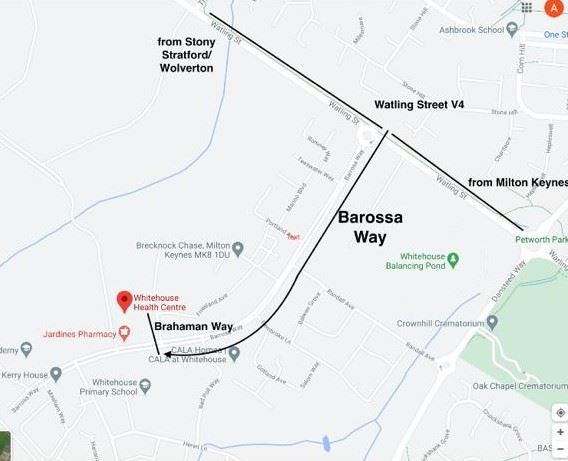 How is the vaccine given?
The vaccination requires two doses; both must be given for the vaccine to be effective. Each dose is given by injection into the upper arm. You may experience mild side effects including arm tenderness, fever, headache, muscle ache and fatigue.
The first vaccines for the over 80s will be given on these dates:
The first injection – Week beginning 11th January
The second injection – Week beginning 1st February
There will be more dates to follow, and there will be enough vaccine for all of this age group, but it is being delivered in batches, so your appointments maybe after this time.
You will not be able to have the vaccination if you have symptoms of Covid19, if you are pregnant, are breastfeeding or are under 18 years old.
What you should do now
Wait to be contacted by your surgery.
You must book two appointments, in order to receive the two doses required. A family member can do this on your behalf.
If you are not in this age group, do not contact the surgery at this time but check the website for updates.