Veterans Friendly Practice
What is a Veteran?
A veteran is anyone who has served for at least one day in the Armed Forces, whether regular or reserve. It means the same as 'ex service personnel' or 'ex-forces', although not all veterans know, choose or want to associate with the term 'veteran'. This is particularly the case amongst younger veterans who often refer to themselves as 'ex-forces', due to the common belief that a veteran is someone who fought in the First / Second World War.
Source: Royal College of General Practitioners
Useful Links
NHS website at www.nhs.uk/armedforceshealth
Twitter: @NHSArmedForces
Op COURAGE: The Veterans Mental Health and Wellbeing Service - www.nhs.uk/opcourage
Urgent and emergency support from other NHS services
If you experience a mental health crisis you can also get help by dialling 111, booking an emergency GP appointment, visiting A&E or calling 999. If you are still serving, you can also call the Military Mental Health Helpline on 0800 323 4444
Op COURAGE
The first call for help takes courage
Op COURAGE: The Veterans Mental Health and Wellbeing Service
Specialist care and support for Service leavers, reservists, veterans and their families
The first call for help takes courage
The first step to getting help is to contact Op COURAGE or ask your GP, a charity or someone else, such as a family member or friend, to do this on your behalf.
For services in Buckinghamshire, call 0300 365 2000 or email gateway@berkshire.nhs.uk
Visit: www.nhs.uk/opcourage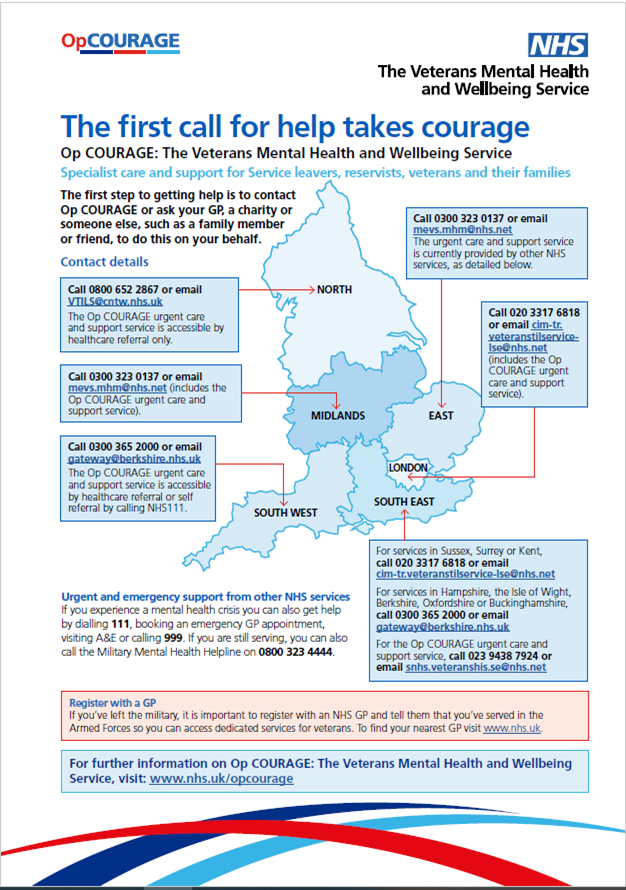 Top tips for veterans - How to get the most from your GP
It is important to register with a GP, rather than wait until you need treatment. Visit the NHS website at www.nhs.uk to find details of GP practices in your local area.
If you've recently left the forces, it is important to give your GP the paperwork that your military medical centre gave you, including any medical records. This will help to make sure your military health record transfers to your NHS health record. This will also give your GP information on your health and ensure that any ongoing care and treatment is continued.
Regardless of when you left the military, tell your GP that you've served in the UK Armed Forces. This will help your GP to better understand any military related health conditions that you may have and ensure that you are referred, where appropriate, to dedicated services for veterans. This includes the specialist mental and physical health services, Op COURAGE: The Veterans Mental Health and Wellbeing Service and the Veterans Trauma Network. When using these services, you will be able to speak to people who:
understand the Armed Forces and military life
are either from the Armed Forces community or highly experienced in working with serving personnel, reservists, veterans and their families
will work with you to make sure you get the right type of specialist care, support, and treatment
work closely with a range of organisations and charities, including military charities, to support your wider health and wellbeing needs.
With your agreement, it can sometimes be helpful for your doctor to refer you to Armed Forces charities, such as SSAFA, the Royal British Legion, Combat Stress or Help for Heroes. They can often offer significant help and support, even if they do not all deliver healthcare.
You may be worried about sharing information about your time in the Armed Forces. Please note that the NHS is bound by a confidentiality code of practice to ensure GPs, nurses and other people working within the NHS deliver a confidential service bound by law.
Veterans Trauma Network (VTN)
The VTN is the first NHS pathway for veterans' physical health, providing care and treatment to those with a service-attributable physical healthcare problem. Located in 13 major trauma centres (Plymouth, Oxford, London (three centres), Birmingham, Nottingham, Liverpool, Leeds and Middlesbrough) across England, the VTN works closely with Defence Medical Services, national centres of clinical expertise, Op COURAGE, as well as military charities to provide a complete package of care. It is run largely by healthcare professionals who are either veterans or serving members of the Armed Forces. GPs can use a single national email to refer veterans to the service (england.veteranstraumanetwork@nhs.net), where they will benefit from specialist care by military and civilian experts.
Personalised care programme
UK Veterans at significant risk of problem gambling
New research published in September 2021 in The United Kingdom Armed Forces Veterans' Health and Gambling Study, from Swansea University and funded by Forces in Mind Trust, found that veterans are significantly more likely to experience problem-gambling than non-veterans.
Veterans are 10 times more likely to experience gambling harm. Veteran participants were also found to have a greater risk of poor mental health outcomes including depression, anxiety, PTSD and alcohol and/or nicotine dependence.
Hearing loss and tinnitus services
If a patient has acquired hearing loss and / or tinnitus relating to their time in service, additional support can be funded through The Royal British Legion Veterans' Hearing Fund. To access the service, patients can be referred by their GP to their local NHS audiology department or an application form can be downloaded from the Veterans Hearing Fund section on The Royal British Legion website.
Veterans' Gateway
The Veterans' Gateway is made up of a consortium of organisations and Armed Forces charities, including The Royal British Legion, SSAFA, Combat Stress and Connect Assist. It is a main point of contact for veterans seeking support, putting them and their families in touch with the organisations best placed to help with the information, advice and support they need – from healthcare and housing to employability, finances, personal relationships and more. For more information, visit the Veterans' Gateway website.
Contact
Contact is a group of charitable, support and state organisations that have joined forces to enhance mental health support available to the Armed Forces community. The partnership consists of Big White Wall, Cobseo, Combat Stress, Help for Heroes, The Royal British Legion, Walking With The Wounded, the NHS, the MOD, the UK Psychological Trauma Society and King's College London. Contact aims to improve collaborative care management, increase instances of help-seeking behaviour, improve service provision, encourage best practice across the sector and improve public knowledge of what support is available and how best to access it. For more information, visit the Contact website.
Cobseo
Cobseo, as the Confederation of Service Charities, offers membership to charities who promote and further the welfare and general interests of the Armed Forces community, subject to fulfilling the membership criteria. Comprising 255 members, Cobseo provides a single point of contact for interaction with the Armed Forces community. For more information, visit the Cobseo website.
Blesma
Blesma supports limbless veterans to lead independent and fulfilling lives. Blesma is dedicated to assisting serving and ex-service men and women who have suffered life-changing limb loss or the use of a limb, an eye or loss of sight. They support these men and women in their communities throughout the UK and provide centralised assistance to those living overseas.
Blesma works closely with the NHS to ensure the latest advances in the relevant medical fields are converted into practical solutions that can benefit all of their members. They do not provide members prosthetics, but they do help prosthetists develop their skills at undergraduate and PhD level.
Anyone fitted for a prosthesis will know that the socket fit is paramount and it is often the cause of most issues. Blesma keeps up to date with developments in this area and encourages research and development, maintaining close links with NHS national teams, Defence Medical Services (particularly the Defence Medical Rehabilitation Centre at Headley Court) and industry. For further information, visit the Blesma website.
Prosthetics
The Veterans' Prosthetics Panel (VPP) was established in 2012 as a way of ensuring that veterans can access high quality prosthetics regardless of which Disablement Service Centre (DSC) they attend. This additional funding is available only to veterans who have lost a limb whilst in military service. A veteran who has left the Armed Forces, but whose limb loss is attributable to an injury sustained whilst in service, also qualifies. Veterans who lose limbs after they leave the military or suffer limb loss whilst in the military, but not in a service attributable incident, such as in a civilian road traffic accident, will continue to access services as usual through their local DSC.
The additional funding for veterans is for treatment that would not typically be provided by the NHS, for example higher specification prostheses than are normally available on the NHS. Funding is approved on a case by case basis, with DSCs making individual funding applications to the VPP, which clearly set out the requirement and the benefit that is expected if the request is supported. More information is available on the NHS webpage on services for veterans with physical injuries.
Help for Heroes
Help for Heroes provides direct, practical support for wounded, injured and sick service personnel, veterans and their loved ones from any conflict. They have four recovery centres in the UK offering medical care, guidance, support and advice. Patients can self-refer or be referred by a professional. Once referred, an initial assessment will take place within one to two weeks and there is no waiting list for treatment. For further information, visit the Help for Heroes website.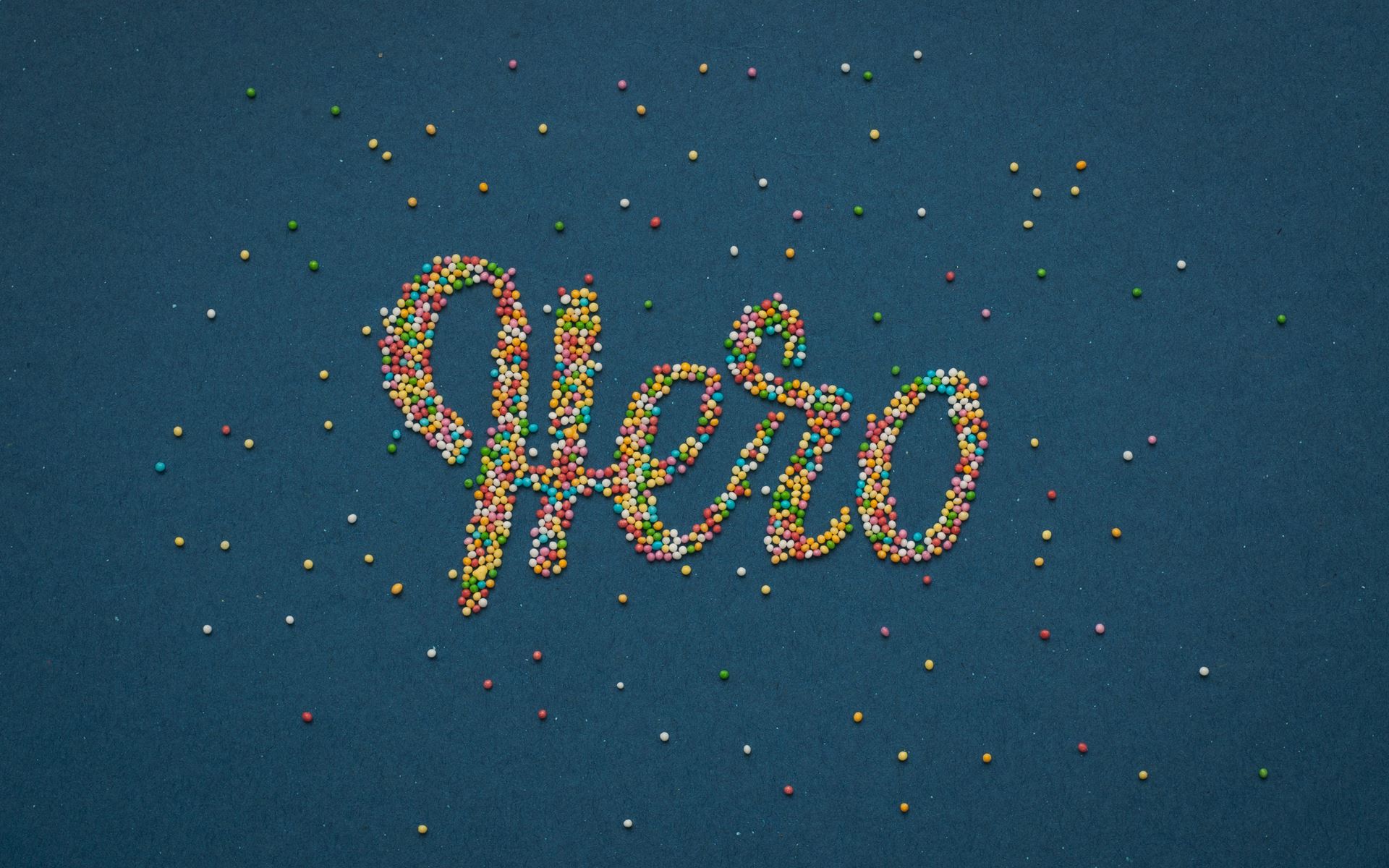 Mobility equipment support
The Royal British Legion has a Veterans' Mobility Fund, which provides specialist wheelchairs, orthotic equipment and other mobility related items for veterans who have a service related serious physical injury and whose needs cannot be met through statutory services. Eligibility for the fund requires the condition to be attributable to service and typically applicants will be in receipt of a War Pension or relevant award under the Armed Forces Compensation Scheme. To find out more, visit the Veterans Mobility Fund section on The Royal British Legion website.
Combat Stress
Combat Stress is the UK's leading mental health charity for veterans. It provides free specialised clinical treatment and support to ex-servicemen and women across the UK with mental health conditions. Combat Stress has a strategic partnership with the MOD and the Department of Health and Social Care. This enables the charity to work with NHS mental health trusts and Armed Forces Health Networks to develop services suitable for military veterans. For further information, visit the Combat Stress website..