Configure Appointment Details
What is Klinik
Klinik Access is an online consultation service and appointment solution that makes it possible for patients to contact us from a computer, a smartphone, or a tablet through the GP practice website.
Our reception team also have access to Klinik and if you telephone the practice you will be taken through the same questions and triage system that our online users will experience.
You will almost certainly find is quicker to ask your question online rather than waiting to speak to one of the reception team.
What can I use Klinik for?
You can use Klinik to seek self-help, request an appointment, request test results, raise enquiries about your medication, request repeat prescriptions and much more.
Do I need any login or credentials for using the service? Do I need to register to be able to use the service?
Using the service does not require login or registration. We have chosen this approach to make the service quick and easy-to-use. The service uses a highly secure one-direction communications connection, which, according to the regulations, does not require strong authentication.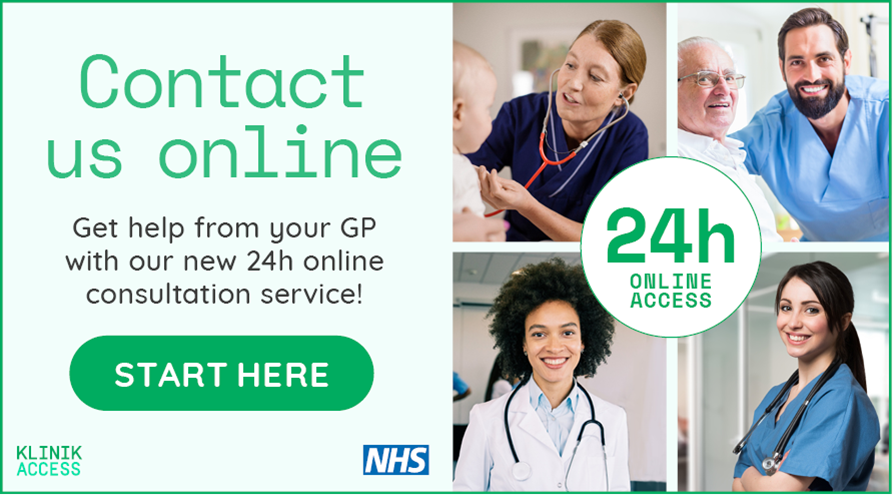 Not Registered for Online Services?
Home Visits
Patients are requested, where possible, to telephone before 10:00 if a home visit is required that day.
We would request that, apart from the genuinely housebound, all other patients attend the surgery rather than request a home visit because of the extra time home visiting takes. On average four to five patients can be seen in surgery in the time it takes to do a single house call. In addition, the care that can be offered due to the lack of adequate lighting, examination facilities and equipment means that you may not receive as good a service as the doctor may be able to offer if you came to the surgery.
Please note that the doctor may telephone you rather than visit you if this is medically appropriate. Ultimately it is the doctors right to decide whether or not a visit is appropriate for a particular set of circumstances.
Extended Access - MKGP Access
General Practice appointments available on weekday evenings and weekends
You can access general practice appointments, GP and HCA appointments on weekday mornings before 08:00 and weekday evenings up to 20:00 and weekends at several locations in Milton Keynes.
To book an appointment just contact the surgery giving the receptionist enough information to book the appropriate appointment.
There are early morning, evening and weekend appointments available across Milton Keynes for a range of services. Services available include:
GP Appointments
Blood Tests
Physio Assessments
Minor Illnesses
How do I get an appointment?
Contact your practice receptionist.
Where will I be seen?
Appointments will be at one of the HUB practices in Milton Keynes. These are:
Brooklands Health Centre, Broughton
CMK Medical Centre, Bradwell Common
Parkside Medical Centre, Bletchley
The Grove Surgery, Netherfield
Wolverton Health Centre, Greenleys
Newport Pagnell Medical Centre, Newport Pagnell
NPMC @ Willen, Willen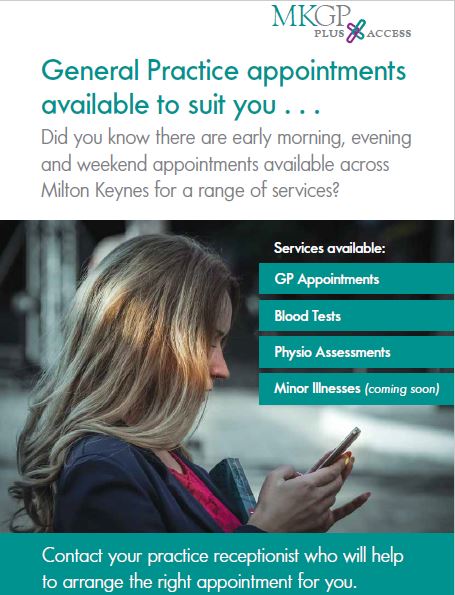 Cancel an Appointment
It is important that you inform the reception staff if you are unable to attend your appointment, this will allow that appointment to be offered to another patient. If you fail to notify the Practice that you are unable to attend, you will be sent a letter on text message informing you that you have defaulted from your appointment. Persistent defaulters maybe removed from the list.
You can also complete our appointment cancellation notification request form on Klinik Access. You can also text to cancel your appointment, if you have received a text message reminder of your appointment.
Text Reminder Service
We have a texting service which allows you to receive confirmation and reminders about your appointments.
To have this service you will need to register by completing a consent form.
Please remember to update your contact details with us when you change address, telephone numbers and email address.
Training
From time to time the practice may have some professionals undergoing training (i.e. medical students, junior doctors and nurses).
You may be asked permission for these professionals to be present during your consultation. You do, of course, have the right to refuse.
MK Pharmacy First
Before you book an appointment with your GP or visit A&E, why not visit your local MK Pharmacy First?
MK Pharmacy First provides confidential health advice without needing to book an appointment.
For children and for people that receive benefits that allow them to have free prescriptions, the pharmacy can supply your recommended medicines free of charge.
Use MK Pharmacy First instead of booking a GP appointment and get immediate advice and treatment.
You must be registered with a Milton Keynes GP to qualify for this service. If you are not registered you can find out how to register at www.miltonkeynesccg.nhs.uk/nhs-111/